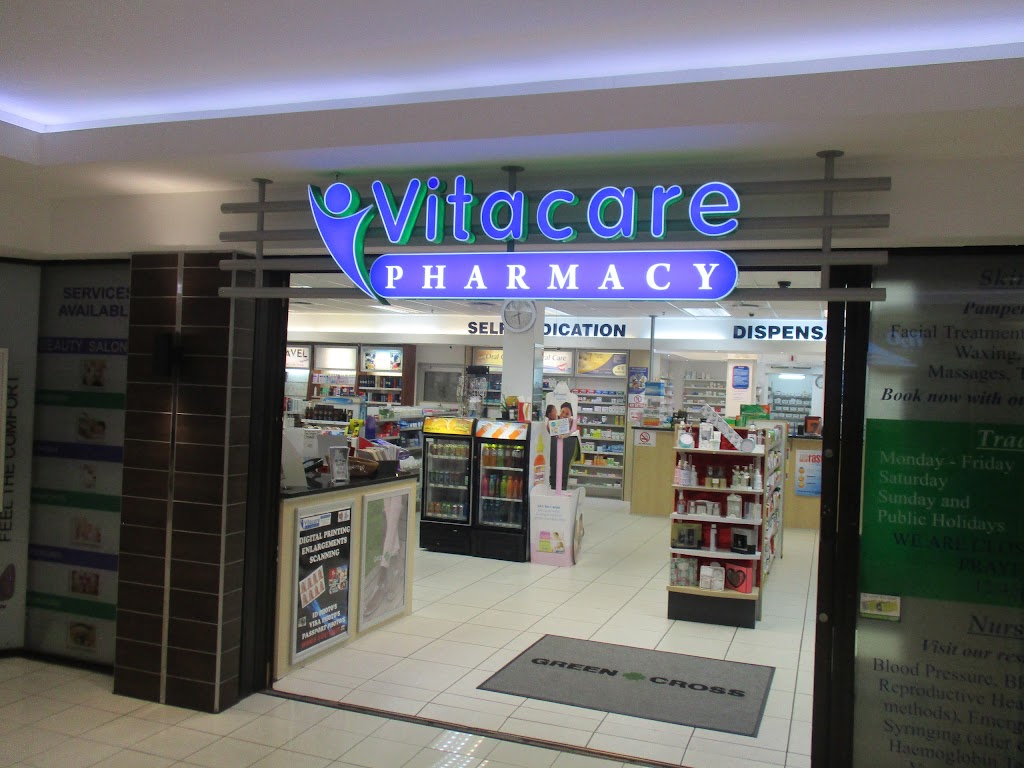 Welcome to the

Vitacare Group

of Pharmacies website. We hope you enjoy your stay
At Vitacare, we are dedicated to your well-being and committed to providing you with top-quality healthcare services. Our convenient and friendly pharmacy is here to meet all your prescription and over-the-counter medication needs.
Discover the difference of a pharmacy that puts you first. Visit us today and experience pharmaceutical care that goes beyond the ordinary.
NEWS FEEDS AND PAST ARTICLES
BRANCHES IN CAPE TOWN & SURROUNDS
Vitacare Pharmacy Plattekloof
Plattekloof Centre
Cnr Olienhout & Plattekloof Drive
Tel: 021 911 1045
Fax: 021 911 1051
Whatsapp orders: 060 981 5327
Email: dispensary@vitacaregroup.co.za
Monday – Friday 09:00 – 20:00
Saturdays 09:00 – 17:00
Sundays 09:30 – 13:00
Vitacare Pharmacy Rondebosch
Riverside Mall
Cnr Main & Belmont Roads
Tel: 021 685 3030
Fax: 021 689 1656
Whatsapp orders: 071 496 0811
Email: rx@vitacarepharm.co.za
Monday – Friday 08:00 – 18:00
Saturdays 08:00 – 14:00
Sundays 09:00 – 13:00
Rustenburg Pharmacy Rondebosch
Rondebosch Main Centre
Main Road
Tel: 021 686 3997
Fax: 021 689 4210
Whatsapp orders: 078 076 5722
Email: rx@rustenburgpharm.co.za
Monday – Friday 08:30 – 22:00
Saturdays 08:30 – 22:00
Sundays 09:00 – 22:00
Vitacare Pharmacy Kromboom
Kromboom Medicentre
Tel: 021 696 7880
Fax: 021 697 1257
Whatsapp orders: 081 306 8990
Vitacare Pharmacy Lansdowne
Lansdowne Road
Tel: 021 703 5619
Fax: 021 703 2876
Email: nazier@vitacarepharmacy.co.za
Vitacare Pharmacy
Penlyn
Belmore Avenue
Tel: 021 691 3179
Fax: 021 691 3180
Whatsapp orders: 082 479 9988
Golden Acre Pharmacy Cape Town
Adderly Street
Tel: 021 425 8786
Fax: 021 425 8788
Email:
Vitacare Pharmacy
Strand
Southside Centre
Tel: 021 853 2583
Fax: 086 556 1459
Whatsapp orders: 067 377 8359
Email:
Rivetts Pharmacy Wynberg
Wynberg Main Road
Tel: 021 797 1991
Fax: 021 797 4171
Email: